Senter for sjeldne diagnoser
Oslo Universitetssykehus
Fin oversikt og du kan kontakte uten henvisning 
https://sjeldnediagnoser.no/sjeldnediagnoser
NHI.NO  
SKAPNINGENE DU IKKE VIL MØTE PÅ
Verdens giftigste dyr (klikk.no/side 3)
Verdens giftigste dyr er antagelig den gule pilgiftsfrosken som lever i Sør- og Mellom-Amerika. Giften er så sterk at det er farlig å bare ta på frosken om du har en rift i fingeren. Men den er langt fra det eneste dyret som kan ta livet av en voksen mann på noen øyeblikk …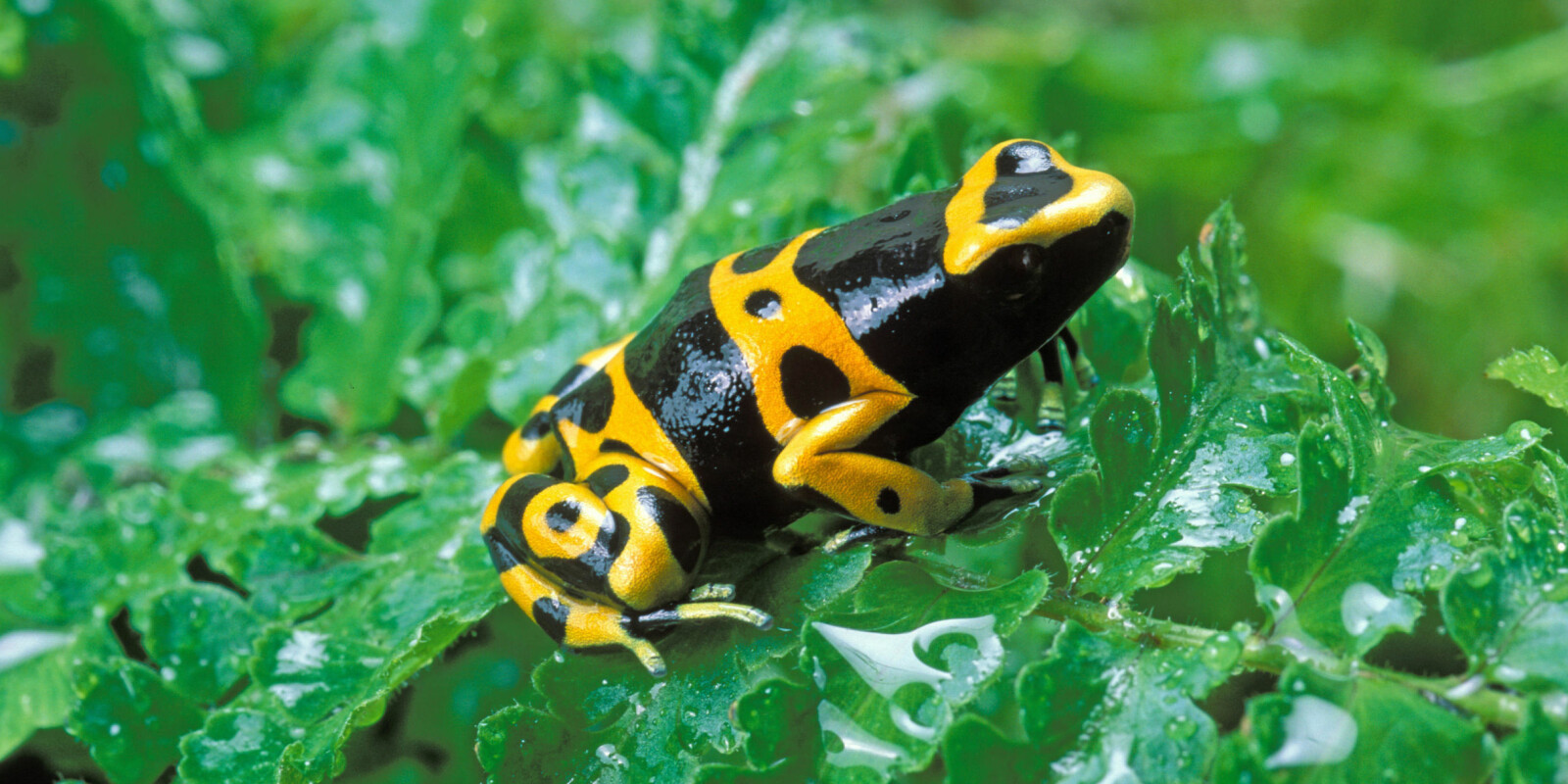 Å liste opp verdens giftigste dyr er ikke så lett. Er det giften i seg selv som skal være den farligste? Eller er det dyrene med mest gift som teller? Eller skal en se på hvilke giftige dyr som faktisk tar livet av flest mennesker i løpet av et år?
På norske bruker vi dessuten kun ordet «giftig», mens man for eksempel i det engelske språket skiller mellom dyr som er «poisonous» og «venomous».
Førstnevnte bruker giften sin passivt først og fremst i selvforsvar mens sistnevnte bruker giften aktivt ved å bite eller stikke.
Uansett, her er ti dyr, både passive og aktive, vi ikke har lyst til å støte på.
Kjeglesnegle
Conus
Lever i: Verdensomspennende. Mest vanlige i tropiske og subtropiske områder.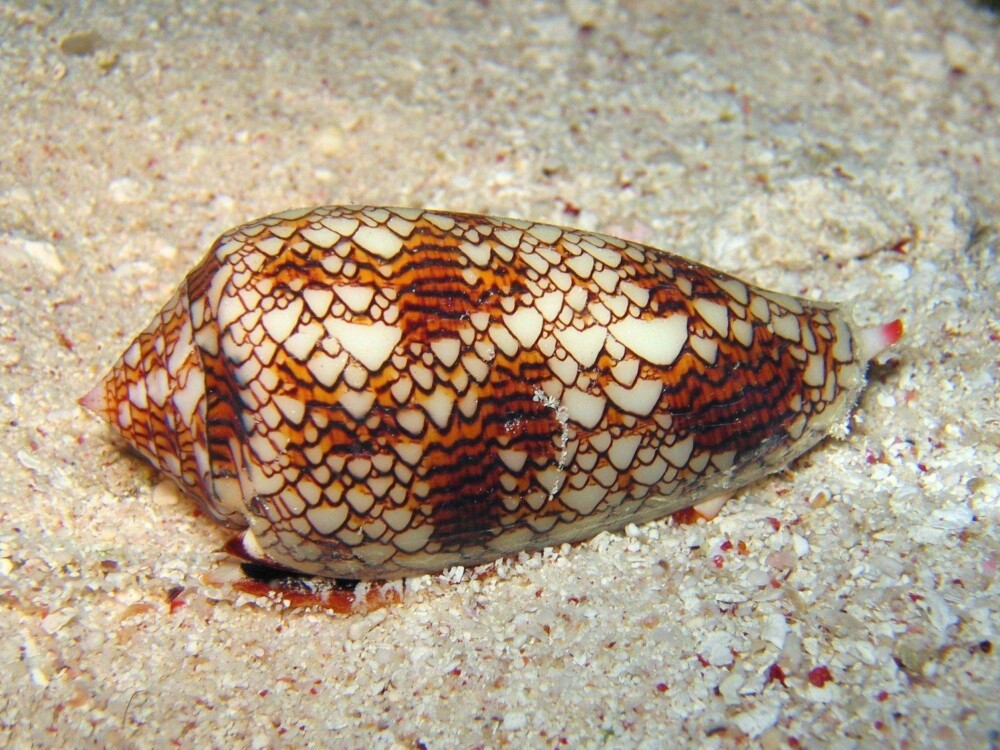 Det finnes en rekke kjeglesnegler og alle er aktive drapsmaskiner. Mens de fleste giftige dyr produserer én spesiell type gift, kan hver av disse sneglene produsere over 100 typer forskjellige giftstoffer. En dråpe, og du er død. Faktisk kan giften fra en slik snegle være nok til å ta livet av over 20 mann.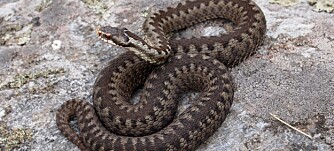 Hoggorm-rekord: Dette gjør du om du blir bitt
Sjøveps
Chironex fleckeri
Lever i: Havområdene fra det nordlige Australia og Ny-Guinea opp til Filippinene og Vietnam.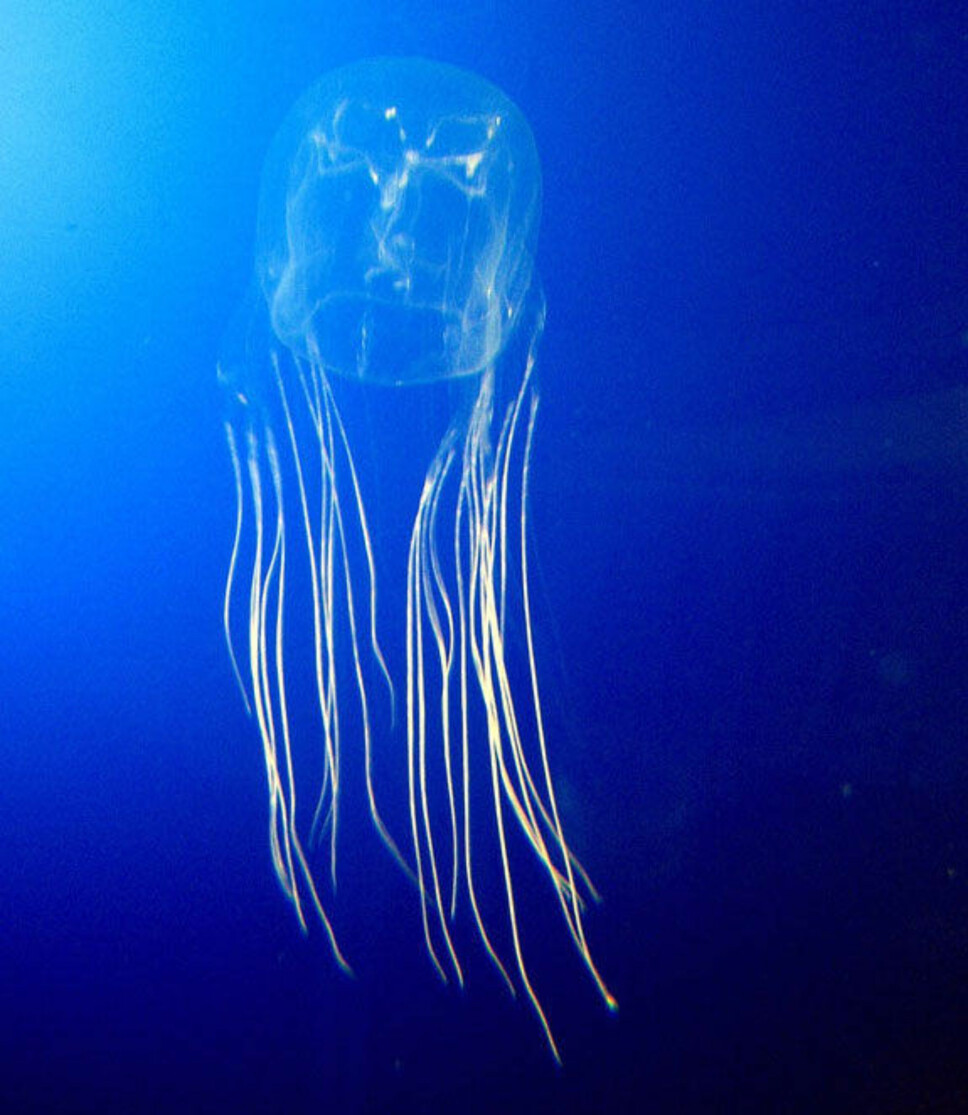 De fleste maneter er først og fremst ubehagelige, men ikke dødelige. Det gjelder imidlertid ikke den beryktede sjøvepsen. Dette er verdens giftigste manet, ett stikk fra tentaklene lammer hele nervesystemet ditt. Denne formen for gift er den eneste av sitt slag. Til å være en manet er den dessuten en hurtig svømmer og har sofistikerte øyne.
Kongekobra
Ophiophagus hannah
Lever i: India, Sørøst-Asia, og det sørlige Kina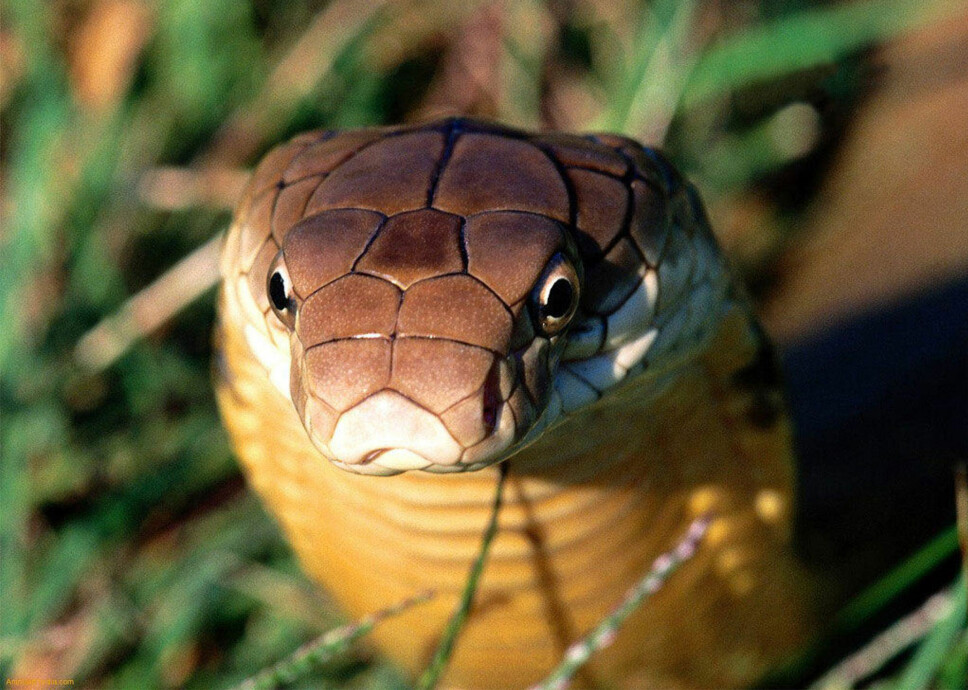 Kongekobraen er den er den største av giftslangene, og kan bli opp mot seks meter lang, veie 20 kilo og måle opp mot 30 cm rundt nakken. Kongekobraen er til tross for navnet ikke i slekt med kobraslangene. Kongekobraens gift er hovedsakelig en nervegift, og ikke spesielt sterk sammenlignet med andre giftsnoker. Den er likevel i stand til å drepe en voksen elefant, eller tilsvarende 20 voksne mennesker fordi den injiserer store mengder gift i et bitt.
Blåringet blekksprut
Hapalochlaena
Lever i: Stillehavet og Det indiske hav, mellom Japan og Australia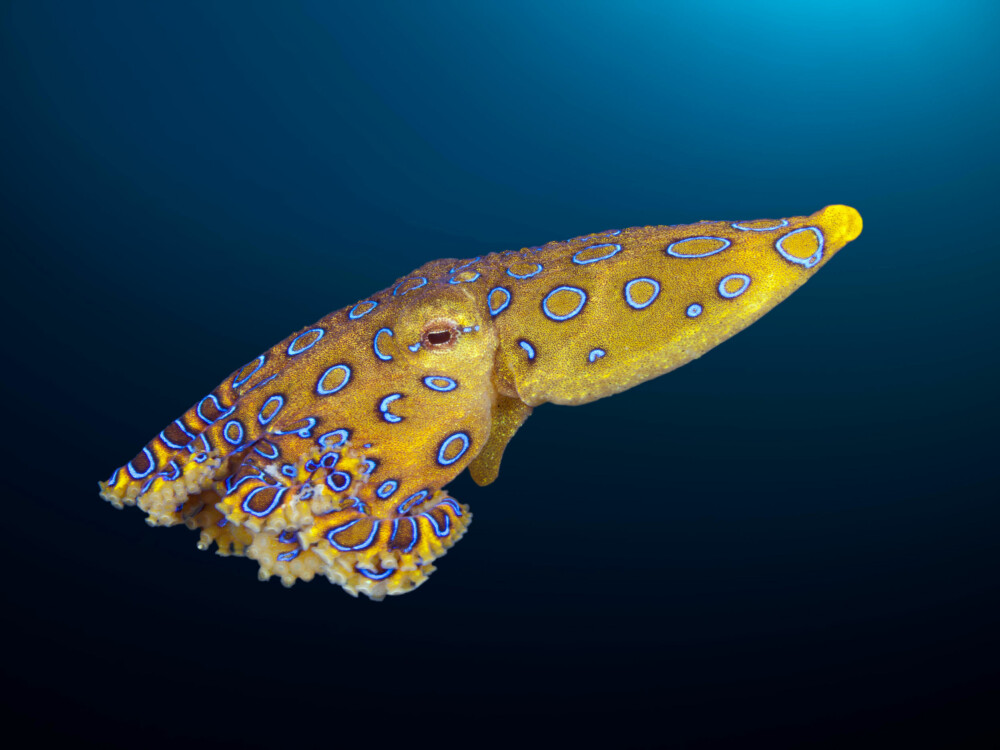 Denne lille rakkeren blir bare mellom 8 – 20 centimeter stor, men den regnes som et av verdens aller giftigste dyr. Blåringet blekksprut jakter vanligvis på krabber, reker og eremittkreps, men kan også gå til angrep på mennesker dersom den provoseres. Giften lammer og gir pustestopp, og kan drepe et menneske i løpet av minutter.
Dødsforfølgeren
Leiurus quinquestriatus
Lever i: Nord-Afrika og Midtøsten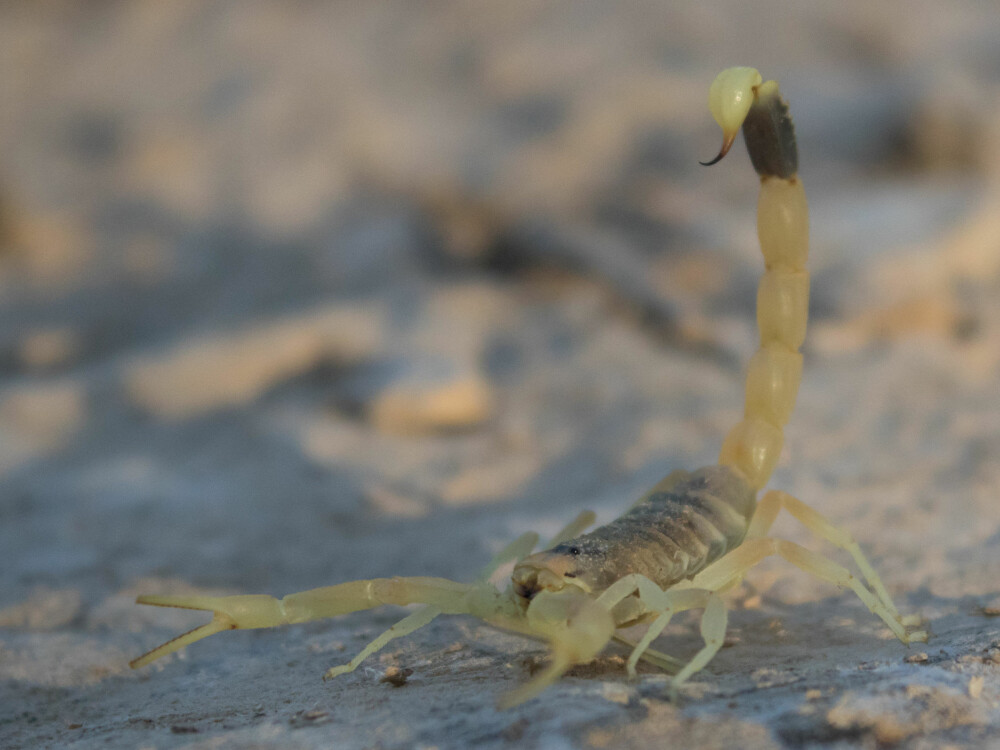 Verdens giftigste skorpion heter Leiurus quinquestriatus, eller «Dødsforfølgeren», som den kalles. Tre av fire mennesker som dør av skorpionstikk, er stukket av en Leiurus Quinquestriatus. Skorpionen lever i Nord-Afrika og Midtøsten.
Giften til Dødsforfølgeren angriper neversystemet, og kan lett ta livet av barn og eldre mennesker. En voksen, sunn person vil ha større sjans til å overleve. Årsaken til at skorpionen tar livet av såpass mange mennesker er at den liker seg i nærheten av mennesker, og kan godt krype inn i sko og klær…
Steinfisk
Synanceia verrucosa
Lever i: Stillehavet, Det indiske hav, Rødehavet
Steinfisken er den giftigste fisken i verden, og er dødelig for mennesker. Fisken har fått navnet sitt på grunn av det kamuflerende utseendet som gjør at den ser ut som en stein. Giften kommer fra de nålespisse finnene, så kryss tærne for at du ikke tråkker på en slik en.
Sydney funnel web-edderkopp
Atrax robustus
Lever i: Østlige delen av Australia, i og nær Sydney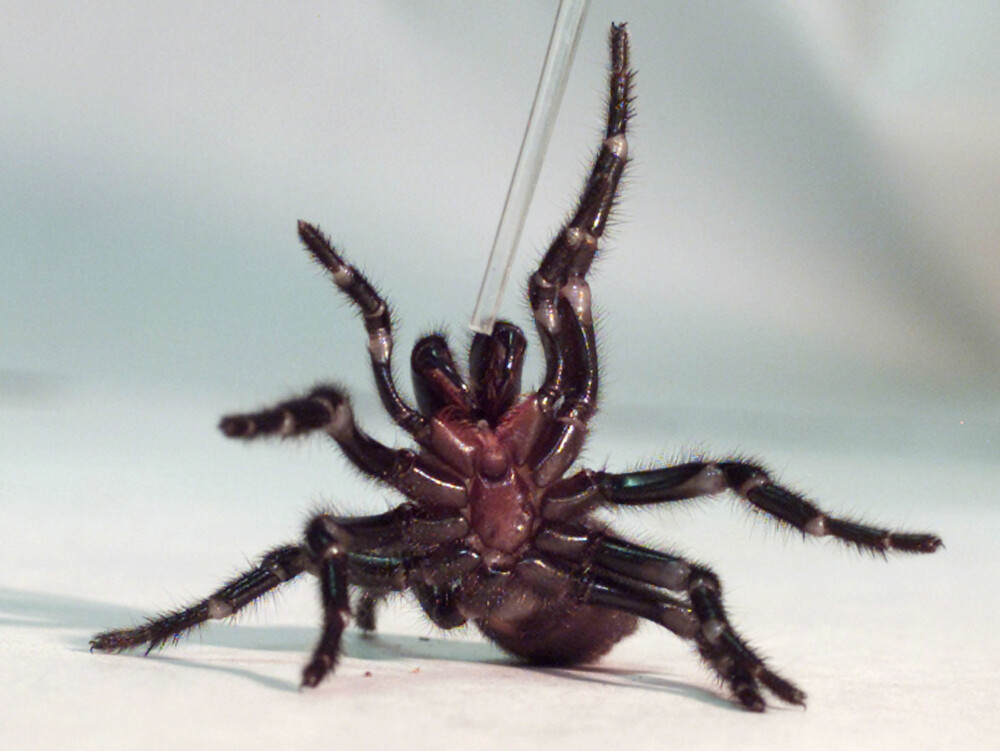 De australske "funnel web"-edderkoppene er ikke de største i verden, men de kan være livsfarlige for mennesker, med store giftkjertler og så kraftig hogg at det kan trenge gjennom stortåneglen til en voksen mann.
Særlig beryktet er en art som er utbredt i et ganske lite område rundt Sydney i Australia. Den er meget giftig og har også ord på seg for å være aggressiv.
Tidligere var den brasilianske vandreedderkoppen regnet for å være verdens giftigste av Guinness rekordbok, men nå har Atrax robustus overtatt tronen.
Noe av årsaken er at den australske edderkoppen er langt mer primitiv og injiserer hele dosen med gift når den hugger til. Den brasilianske vandreedderkoppen er mer sofistikert og huggert "tørt" to av tre ganger, og kan også justere mengden gift.
Innlandstaipan
Oxyuranus microlepidotus
Lever i: Australia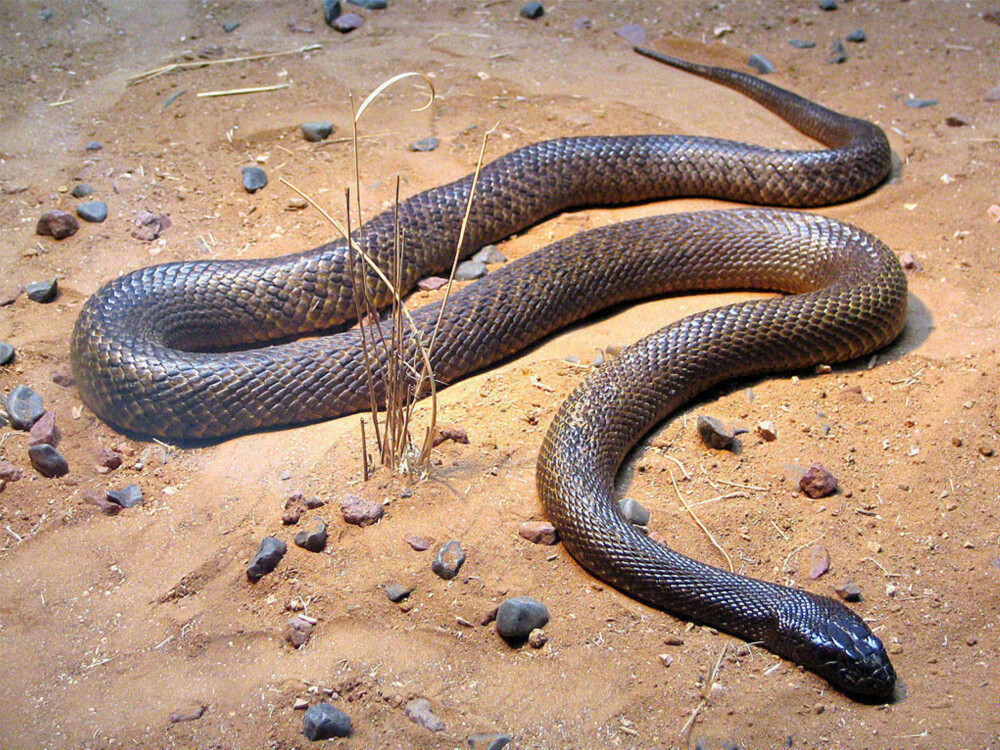 Denne australske snoken regnes som verdens giftigste slange på land. Giften er 50 ganger sterkere enn kobraens. Den lever av mus og små gnagere. Takket være motgift er det ikke registrert noen tilfeller av dødsfall blant mennesker. Ennå.
Gul pilgiftsfrosk
Phyllobates terribilis
Lever i:
Mellom- og Sør-Amerika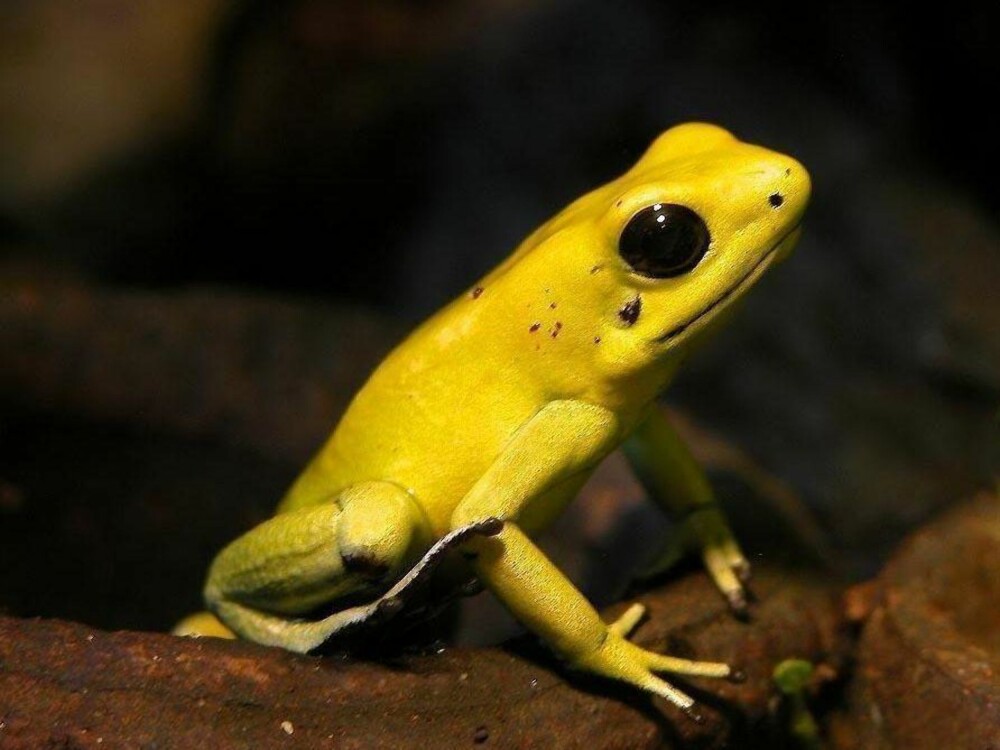 Om du er på tur i regnskogen i Sør-Amerika og kommer over en frosk med mange fine farger, ikke plukk den opp. Avhengig av arten, kan dette være en av de aller, aller giftigste dyrene vi har på kloden. Den gule du ser på bildet her (Phyllobates terribilis), er den giftigste av dem alle.
Den skyter ikke ut giftige piler, som navnet kan tilsi, men har fått navnet fordi Choco-indianerne brukte giften til jaktpilene sine. Ett gram av giften er nok til å ta livet av 15.000 mennesker.
Den gule pilgiftfrosken er passiv giftig, det vil si at den ikke aktivt bruker giften sin til å angripe bytter. Giften skilles ut av huden, og kan komme av at frosken spiser et hittil ukjent insekt – som i så fall vil være verdens giftigste.
Kulefisk
Tetraodontidae
Lever i: Tropiske havområder
Swimmer's itch
Jump to navigation
Jump to search
Swimmer's itch or cercarial dermatitis, is a short-term allergic immune reaction occurring in the skin of humans that have been infected by water-borne schistosomes. Symptoms, which include itchy, raised papules, commonly occur within 1–2 days of infection and do not generally last more than 2–3 weeks. However, people repeatedly exposed to cercariae develop heavier symptoms with faster onset.[1] Cercarial dermatitis is common in freshwater, brackish and marine habitats worldwide.[2] Incidence may be on the rise, although this may also be attributed to better monitoring. Nevertheless, the condition has been regarded as emerging infectious disease.[3]
There are no permanent effects to people from this condition.[4] Orally administered hydroxyzine, an antihistamine, is sometimes prescribed to treat swimmer's itch and similar dermal allergic reactions. In addition, bathing in oatmeal, baking soda, or Epsom salts can also provide relief of symptoms.[5]
Swimmer's itch probably has been around as long as humans. The condition was known to exist as early as the 1800s, but it was not until 1928 that a biologist found that the dermatitis was caused by the larval stage of a group of flatworm parasites in the family Schistosomatidae.[6] The genera most commonly associated with swimmer's itch in humans are Trichobilharzia[1] and Gigantobilharzia. It can also be caused by schistosome parasites of non-avian vertebrates, such as Schistosomatium douthitti, which infects snails and rodents. Other taxa reported to cause the reaction include Bilharziella polonica and Schistosoma bovis. In marine habitats, especially along the coasts, swimmer's itch can occur as well.[7]
These parasites use both freshwater snails and vertebrates as hosts in their parasitic life cycles as follows:
Risk factors
[
edit
]
Humans usually become infected after swimming in lakes or other bodies of slow-moving fresh water. Some laboratory evidence indicates snails shed cercariae most intensely in the morning and on sunny days, and exposure to water in these conditions may therefore increase risk. Duration of swimming is positively correlated with increased risk of infection in Europe[9] and North America,[10] and shallow inshore waters may harbour higher densities of cercariae than open waters offshore. Onshore winds are thought to cause cercariae to accumulate along shorelines.[11] Studies of infested lakes and outbreaks in Europe and North America have found cases where infection risk appears to be evenly distributed around the margins of water bodies[9] as well as instances where risk increases in endemic swimmer's itch "hotspots".[11] Children may become infected more frequently and more intensely than adults but this probably reflects their tendency to swim for longer periods inshore, where cercariae also concentrate.[12] Stimuli for cercarial penetration into host skin include unsaturated fatty acids, such as linoleic and linolenic acids. These substances occur naturally in human skin and are found in sun lotions and creams based on plant oils.
Control
[
edit
]
Various strategies targeting the mollusc and avian hosts of schistosomes, have been used by lakeside residents in recreational areas of North America to deal with outbreaks of swimmer's itch. In Michigan, for decades, authorities used copper sulfate as a molluscicide to reduce snail host populations and thereby the incidence of swimmer's itch. The results with this agent have been inconclusive, possibly because:
Snails become tolerant
Local water chemistry reduces the molluscicide's efficacy
Local currents diffuse it
Adjacent snail populations repopulate a treated area[13]
More importantly, perhaps, copper sulfate is toxic to more than just molluscs, and the effects of its use on aquatic ecosystems are not well understood.
Another method targeting the snail host, mechanical disturbance of snail habitat, has been also tried in some areas of North America[11] and Lake Annecy in France, with promising results. Some work in Michigan suggests that administering praziquantel to hatchling waterfowl can reduce local swimmer's itch rates in humans.[14] Work on schistosomiasis showed that water-resistant topical applications of the common insect repellent DEET prevented schistosomes from penetrating the skin of mice.[15] Public education of risk factors, a good alternative to the aforementioned interventionist strategies, can also reduce human exposure to cercariae.
See also
[
edit
]
References
[
edit
]
External links
[
edit
]
I disse Coronatider er det også viktig med historie!
Ullevål sykehus, Oslo, ble bygget opp med tanke på noe som dengang var vanlig, nemlig"epidemi/ pandemi". 
Nå har dette igjen blitt aktuellt, og Ullevål sykehus må bygges ut og ikke overføres/ bygges ut på Rikshospitalet/ Gaustad!
Se også kronikk i Morgenbladet:
https://morgenbladet.no/ideer/2020/04/bynaturen-trenger-sterkere-vern
https://direkte.vg.no/coronaviruset/videos/195131
HELSEDIREKTORATET:
HelsedirektoratetHelsedirektoratet
TEMAKoronavirus
Temaside om koronavirus (coronavirus) SARS-CoV-2 med anbefalinger og informasjonsmateriell for helsepersonell og andre offentlige aktører.
FHI Folkehelseinstituttet (Bl.a. Corona/ Korona)
Copyright
© 2020, StatPearls Publishing LLC.
This book is distributed under the terms of the Creative Commons Attribution 4.0 International License (http://creativecommons.org/licenses/by/4.0/), which permits use, duplication, adaptation, distribution, and reproduction in any medium or format, as long as you give appropriate credit to the original author(s) and the source, a link is provided to the Creative Commons license, and any changes made are indicated.